THE NEW VEGETABLE WINDROWER
The agricultural machinery manufacturer GRIMME extends its product range with the new vegetable windrower, named the WV-series.
Windrowers are commonly used in a two-phase harvesting process on storable and robust onions. The new windrower for vegetables will be available for the next harvest season with working widths of 1.40 m, 1.65 m and 1.80 m.
Crop quality starts with the intake of the crop. The new WV-series is equipped with intake paddles which are particularly gentle to the crop. Paddles are available either as rubber or brush versions. Both versions are extremely flexible and can move upwards to reduce the pressure on the crop when crop flow increases. Due to the shifted arrangement of the intake paddles, the crop is transferred reliably and gently onto the first main web. Another positive aspect is that the intake paddles prevent the crop from rolling back when the machine is lifted. This is to ensure that as much marketable crop as possible is placed in a swath on the surface of the ground.
For sufficient and gentle sieving, even in difficult harvesting conditions, the first and second main web can be equipped with either a mechanical or hydraulically driven agitating device.
The unique Boogie-System provides an even and firm surface on the ground so that the harvested crop cannot sink in. This allows the crop to dry better, making it storable and robust. This also helps to minimise the amount of soil that has to be taken into the machine in the second phase of the harvest process.
The spring loaded Boogie-System consists of two support wheels and a bed roller. The suspension ensures a constant pressure on the bed roller so that a "bulldozing effect" of soil in front of the bed roller is prevented.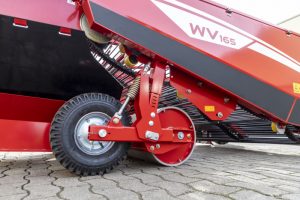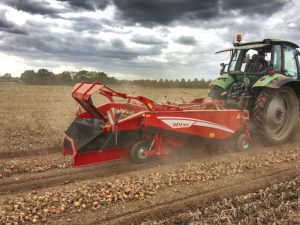 source: click here